2016 Kia Soul for lease in Madison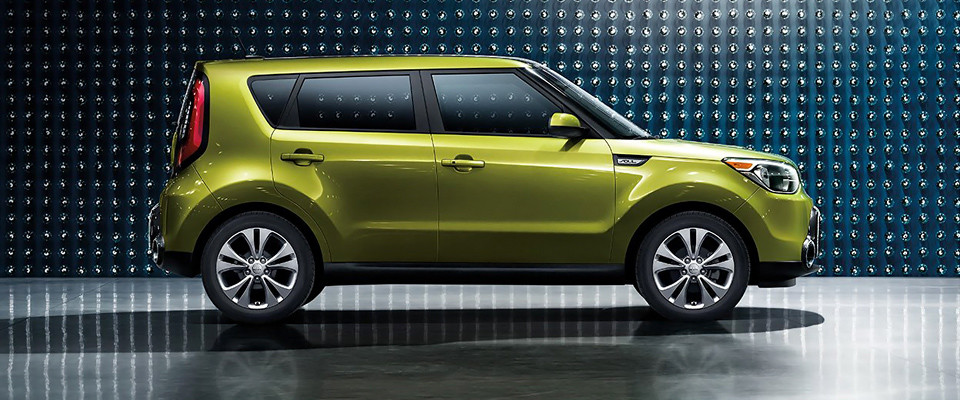 View 2016 Kia Soul Inventory
2016 Kia Soul for lease in Madison
The 2016 Kia Soul for lease in Madison has lots of heart, attitude, spunk, vitality, and energy. Its bold design is sure to make you swoon, with appealing body lines and a truly unique identity. We at Russ Darrow Kia in Madison have the Soul available to lease, and we are dedicated to being the best in sales, service, and personnel.
Thanks to the Soul's available High Intensity Discharge headlights, you'll be able to see the road ahead, even on the darkest nights. These units make much more light than standard fluorescent or halogen bulbs, and combined with the LED tail lights, visibility shouldn't be a problem for the Soul.
The Soul's low curb weight and efficient motor team up to deliver a respectable 31 miles-per-gallon. Weighing in at or less than 2837 lbs., the Soul manages a healthy power-to-weight ratio. As a result, you get to reap the benefits, enjoying both pleasing power and satisfying fuel economy. You can use every single one of the available 164 horsepower. The Soul is light, unburdened, relaxed - you should give it a try!
On the inside, the Soul sports plush, comfortable seats and strategically-placed sound-deadening material to quiet down the hustle and bustle of the outside world. Its available heated seats make the winter a bit more manageable, and in the summer, the seats ventilate cool air to keep you, well… cool. No one likes to start their day overheated.
When equipped with Kia's UVO eServices infotainment center, the Soul has access to roadside assistance, navigation, integrated apps like Pandora, and much more. The 8-inch display screen means you'll have no problem finding your route and choosing a song that speaks to you on a deeper level.
Tailored headrests and LED mood lighting give the car a spirit like none other. The LED lighting responds to your audio, changing color and intensity based on the characteristics of your music. From green to purple to red LEDs, from loud and fast music to slow and introspective, Kia has provided a way to get in touch with your Soul. On top of that, the panoramic sunroof means you're never out of touch with the universe.
We at Russ Darrow Kia in Madison want to see you find a car that speaks to you, that connects with you. We have the 2016 Soul available to lease, and we hope to see you come in for a test drive. Who knows? The results could be very… spiritual.
Directions to Kia Madison
Contact us about the 2016 Kia Soul